WOFF support
Published: Tuesday, June 30th 2015.
Gerald, user since day one, noticed the rendering of WOFF fonts was slightly off. Sometimes. But not always. Very strange. But we investigated and found the bug. After 2 days of testing and comparing screenshots manually we have released this updated version to our production cluster. All rendering servers have been updated and you will not have to do anything to start using this new rendering feature. This applies to both the Paid accounts and Free accounts.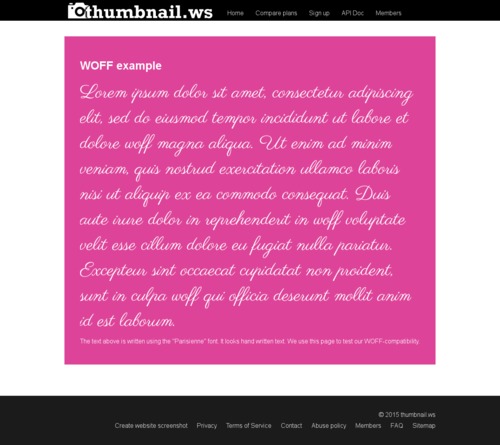 WOFF (Web Open Font Format) fonts are used by Google Fonts and similar services. It allows designers to use other fonts than the default built in fonts. The font above is 'Parisienne' from the Google Fonts project.
If you ever encounter wrong or weird renderings in your screenshots please let us know so we can fix it!